"What past project (personal/professional) are you most proud of?" was the question on the screen. "Please type your answers into the chat box." I requested the participants.
This happened in the first 30 seconds of the live online learning session. Then, many answers started to appear in the chat box revealing the thoughts of participants from more than four continents. I felt as if I could read very fast the minds of tens of people. It would not be possible to access this information that fast in a face-to-face learning environment.
Recently, I have delivered live online learning sessions where more than 240 people from four continents participated. What is more, many of them found the sessions highly engaging and valuable. Here are three approaches I used that can help you elevate your live online learning sessions to the next level.
Start with an interaction and connect: Participants love to connect and have a human touch in an online learning experience. Using well-oiled combinations of online tools can achieve that. In fact, right in the beginning of your live session, you can start with an interaction such as requesting participants to answer a question in the chat box. Reading their replies while mentioning their names would be a great way to welcome them to the live online session. One of the key aspects of connecting with virtual participants is to look at the lens of your camera and smile authentically. Relying on chat is not enough. Interactive polls, super-easy-to-use online collaborative tools and other interactive exercises can keep the interaction throughout the whole learning experience.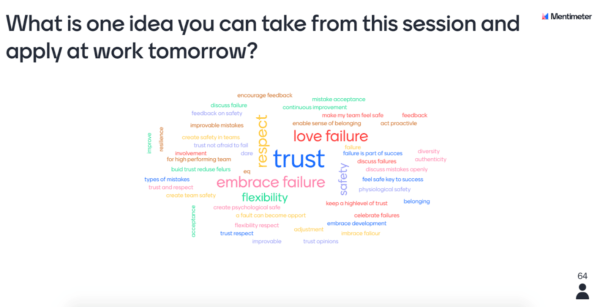 One interactive activity in a live online session. © Mehmet Baha
Empower and highlight learners: In many live online learning sessions, attendees are simply passive consumers of information. This is not an optimal learning experience. Giving your attendees/participants a chance to shine and share their knowledge with others in an online session is crucial. Breakout rooms are a great opportunity for that. Afterwards, encourage participants to unmute, turn on their video and share one-by-one their insights and learnings from the breakout rooms. This strengthens social learning. Participants have unique perspectives and bring tons of experiences and fresh views to a learning experience. In one of the live online sessions I delivered on the topic of psychological safety, one participant recently shared his insights working at a legendary R&D company where nine Nobel Prizes have been awarded for work completed. Listening to his experiences in that company was simply fantastic. The more opportunities there are for learners to shine, the better it is for live online learning experiences.
Continue learning after a live online session: After a live online session, learners connect with me on social media, as I am an external speaker and trainer. I also add them on LinkedIn, especially those who are very engaged in the online learning experience. We continue the conversation there. For instance, right after live online sessions, I ask their feedback about the learning experience. "What do you like the most?" and "What can be improved?" are two simple questions. Doing this all the time requires courage and vulnerability on the part of a speaker/trainer. Yet, it creates an opportunity of dialogue with participants and chances to further enhance learning sessions in a fast manner. There are many cases where participants request from me further reading materials which I am always happy to send. What is more, participants also share with me interesting information. Recently, one participant from California, who is an author and former VP Engineering of an IT company, sent me an insightful article on psychological safety. This creates a great learning experience for all, participants and speakers/trainers, even after the end of online sessions.
It is easy to do a 60-minute or multiple short online sessions over a few days each with a Q&A in the end, especially when companies invite external speakers/trainers. Many times, it is boring for attendees who multitask while they watch the content. They are not fully present in the session. Using the tips above, you can boost learning, engagement and satisfaction of your audience in an online session whether it is a live online workshop or an interactive talk.
Application:
How can you increase the "human touch" in live online learning sessions?
What can you do to empower learners and make them shine?
What are some steps you can take to continue learning even after live online sessions?