We have all worked with various HR teams, some have been great and others, you would be happy to see the back of, I hope you have had more of the former than the latter?
I've worked in various HR teams and I've been lucky to head up HR teams. So, what makes a 'world class' HR team? Based on my experience, you need a mix of people with HR and business skills, excellent interpersonal skills, such as empathy, listening and communication skills, who are committed and willing to 'think out of the box'. Above all, the most critical requirement for a world class HR team is, great leadership.
So, let's look at what makes a world class HR team. We can start with the nine Belbin team roles, that can be grouped into Thinking, Action, and People Roles. Here you can see how various HR team members can be categorised. The 'Thinking Members' are the more strategic and understand what is needed for the future; the 'Action Team Members' design and implement while those in the 'People Roles' focus on relationships and communication with employees and stakeholders.
Is this enough to understand what a world class HR teams looks like?
If we take a wholly HR perspective, then we could refer to Dave Ulrich's original model of the HR team: Strategic Partner, Change Agent, Administrative Expert, And Employee Champion. He updated this model outlining enablers and drivers of HR, containing 9 roles: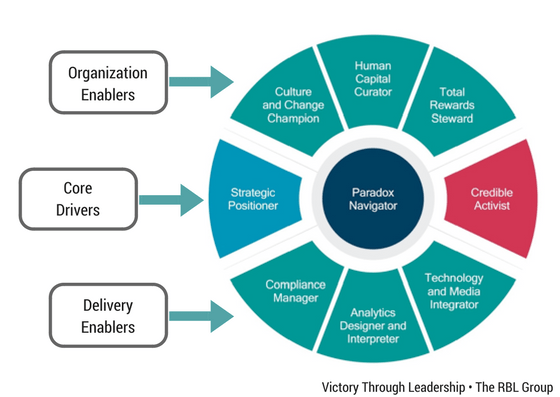 This model characterises the technical roles and the competencies required for HR teams operating strategically and being a key player in achieving business success
While it's important having these competencies, I believe world class teams would also need to have the following:
Business acumen: in understanding how a business operates, makes money, and adds value, is critically important. Also, the ability to show how HR solutions and initiatives can impact business and financial performance. In so doing, you can increase HR's and your own credibility with the management team.
Great listening and communication skills: to understand problems and deliver solutions. Communication is a critical skill for world class teams, in getting the message across and engaging stakeholders to gain their 'buy in'.
Influencing skills: understanding who the key players are and how to improve their disposition to you, by showing the real value that you can add.
Principles: stand up for what you believe is right, knowing when to push and when to hold back with the focus on what you want to achieve. This will require patience and tenacity and it may not always make you popular, but HR is not just about pleasing everyone. Good CEOs value people with principles, you just need to find the right CEO.
Sense of humour: HR is not an easy job as everyone, particularly managers, think they know how to do it until they realise, often too late, the errors of their way.
HR with Attitude: acting with confident conviction.
The final requirement for a world class HR team is having an inspirational HR leader and a CEO that truly values people and their contribution.