Companies in the region are implementing ESG measures, whilst signalling the need for practical support so that they can move faster as there remains to be lack of awareness and access to green finance.

This comes in the findings PwC 2023 report on environmental, social, and governance (ESG) issues in the Middle East. This is the second edition of PwC ESG Middle East survey which was conducted between February 27 and March 14, 2023. The survey respondents were from organisations headquartered in the GCC region, and about two thirds have revenues exceeding $100 million.
The report highlights the continuing progress that companies are making to ensure their strategy, operations and processes are more sustainable, even as they indicate the road still to travel.
"Heightened awareness of climate risk to business, coupled with new regulation, has driven the embedding of ESG in the strategy of more than six in ten companies in the region, with the focus now increasingly shifting to execution," wrote Dr Yahya Anouti, PwC Middle East ESG Leader, Partner, Strategy& Energy, Utilities & Resources Practice.

According to the report "there has been a seismic shift in progress on ESG," as 64% of the survey respondents have adopted a formal ESG strategy in the last 12 months, while many are embedding ESG priorities across their organisations.

PwC said that ESG-related issues have become so embedded in many companies that they have developed specific roles to execute against their ESG strategy. "More than one-quarter (27%) now have a Chief Sustainability Officer (CSO) in place, and in almost half of those companies, the CSO has the primary responsibility for ESG," the survey found.
Despite the region's active participation in raising green finance, PwC's report highlights a lack of awareness and access to green finance, with nearly half of the organisations surveyed relying on self-funding for ESG activities and only 13% accessing sustainable finance.
"There is a growing pressure from investors and banks to factor ESG considerations into capital allocation and decision making," Fazil Abdul Rahiman, VP Sustainability & Climate Change, Abu Dhabi National Energy Company (TAQA) was cited in the report.

In 2022, 55% of respondents stated that it was the CEO who had overall control of ESG, meanwhile this year t 20% as CSOs assume ESG leadership.

Moreover, more companies have a formal ESG strategy in the region continues to rise, with almost two-thirds now saying they have a strategy in place. The survey found that 70% of respondents say that their company reports on ESG, and one-quarter do so in a stand-alone ESG report.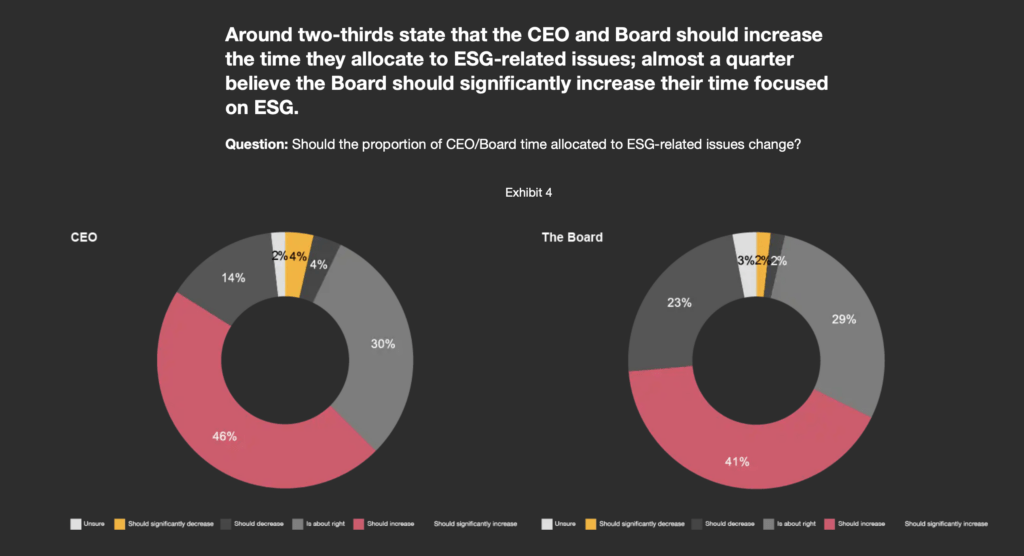 "Of those who are reporting, 59% state that their reporting is formally audited or assured, and a further 25% plan to take that step in the next year,"wrote PwC.
"ESG transformation requires a joint effort between businesses and government bodies. To accelerate progress, companies must prioritise ESG imperatives, while policymakers should continue to develop clear policies and regulations to support their ambitions," said Stephen Anderson, PwC Middle East's Strategy and Markets Leader.
PwC reported that the participants have asked for a green deal in order to step up and go further and faster to ensure an accelerated momentum ahead of COP28.
"The three most desired ESG-related government policies are clear policies and regulations, certification mechanisms, and tangible incentives for green growth, which businesses hope to see announced at COP28," Anderson added.