Various organisational leaders have expressed a degree of wary optimism for the next 6 to 12 months both for the global economy and their companies, yet there is an acute understanding that major market challenges remain, concluded NGS Global.
Under the survey, leaders responsible for medium-to-large scale businesses in a variety of sectors, including financial services, consumer, industrial, technology, and infrastructure said that they were unsure what the short-to medium term economic future holds. 
Considering the downcast economic forecasts for the rest of 2023 and 2024, and the fact that some countries are already in a recession, only 8% of the surveyed respondents said they feel extremely pessimistic about the future health of the global economy.
Stronger Optimism for Company Performance
There is a greater degree of optimism when leaders were asked about expectations for their own company's performance in the next 12 months, the research company said. The most common reasons for this optimism include inflationary pressures weakening, as well as the labour market continuing to be both strong and resilient. But also due to the consumer spending which is near or at all-time highs in the major economies of the US, China and India.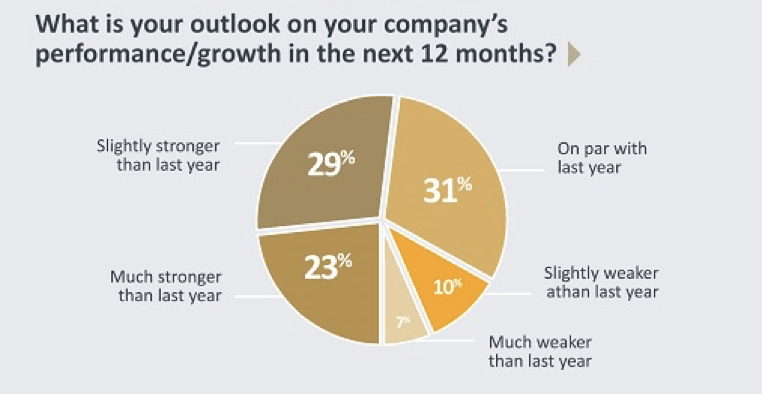 Whilst consumer confidence in OECD countries is nowhere near as high as it was in 2018-19, it has rebounded strongly from a year ago, when it reached its lowest point in 10 years, said NGS.
In terms of priorities, respondents said  that customer acquisition and retention is the most critical element, followed closely by talent acquisition and retention. The least important is digital transformation and technology adoption, and the next least important is regulatory compliance and risk management. Financial stability and profitability and innovation and staying ahead of competitors is of moderate importance. Banking and vendor management were topics not on the list but brought in by the respondents.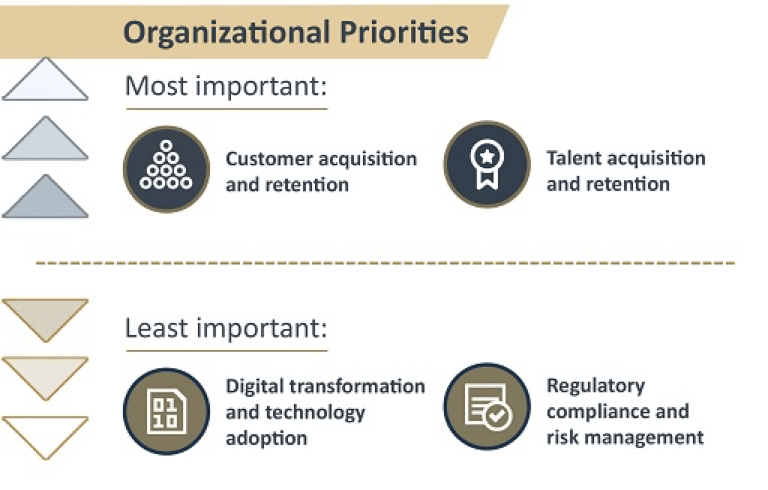 "Digital transformation and technology adoption has decreased in importance in recent years, as the more immediate concerns of customer acquisition and securing the right leadership in an inflationary environment have taken center-stage," said Julian Buckeridge, Managing Partner at NGS Global's office in Shanghai, China.
 "However, I expect tech and digital prioritization to resurge in importance in coming quarters, as the rapid adoption and upscaling of artificial intelligence turns into a major opportunity for businesses," added Buckeridge.    
A Challenging Talent Market
According to the survey respondent financial stability and profitability, talent acquisition and retention remains a huge challenge for companies throughout 2023. Most respondents said that the hiring process is about the same, but more than one in five said it is slightly worse.
"This survey indicates a perhaps unexpected degree of positive sentiment amongst business executives and leaders, albeit tempered by ongoing concerns around the extreme competitiveness for talent and customer acquisition," explained Dr. Udo Maier, Managing Partner for NGS Global in Munich, Germany.
"Companies that can provide genuine yet differentiated value and support for both their client-base and employees are best-positioned in the current climate," added Maier.

NGS said that these results indicate that there is no end in sight, with only 8% saying that the availability of talent has vastly improved since last year.