How is Amazon India's HR director dealing with local talent in global business? Raj Raghavan gives us his insights into talent at Amazon. Raj has been Amazon India's country HR leader since April 2011. His previous roles include stints at General Electric, HSBC and Ford Motor India.
On engaging and motivating talent

At Amazon, we don't think 'skills forward', we think 'customer backwards'. We build capabilities and learn skills based on customer needs. An example is our global customer connections programme that mandates all leaders to spend two days a year resolving customer questions. This keeps leaders across the organisation aware of our consumer pulse.
We encourage an owner-driven work environment, in which our employees can make decisions that are quick and nimble. We are not bureaucratic. We don't have huge layers of management.
We practice a mentorship programme where every new employee is allocated a buddy, who mentors and inducts them into the culture of the organisation. This buddy is someone you can go to for advice. They are your sounding board. Such a programme helps employees to engage and learn from more senior members of staff.
On growing Amazon's talent pool

Amazon has been in India since 2004 and we have a long-term commitment to the country. Candidates from India's leading engineering institutes and business schools form a major part of the talent pool at Amazon in India. As we expand and grow in the country, talented engineers and MBAs from these institutes will play an instrumental role in driving Amazon's growth.
I believe professionals today look for a challenging work environment that focuses on their development and invests in them. Our resources, – time, effort and finance – are focused on offering our employees an inspiring, exciting workplace that allows them to grow, and fosters creativity, innovation and risk taking. We empower our employees to work hard, have fun and make history. This helps keep our retention rates high.
Retaining talent is not role-specific and engaging employees with challenging, as well as meaningful, work goes a long way. At Amazon India, we have also found that a common belief system gives employees a sense of purpose and belonging.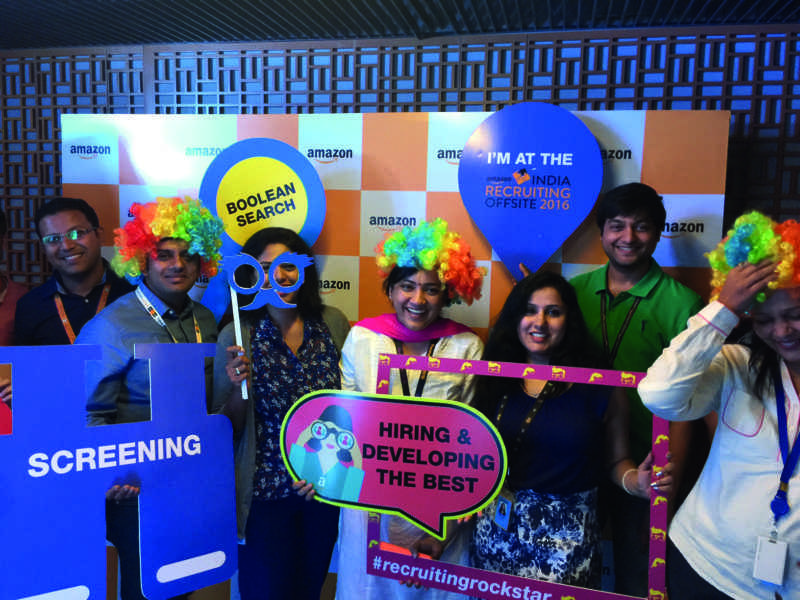 On growing entrepreneurs

I would encourage leaders to develop an organisational culture where 'builders can build'. Most of the developing world, and especially India, is at the unique confluence of a young and growing middle class, scalable internet technologies, rapidly dropping prices of smartphones connecting the massive mobile population to the internet faster that you can imagine, infusion of capital, and an entrepreneurial talent pool.
At the same time, we face challenges including unorganised retail infrastructure, underdeveloped logistics and low electronic payments penetration, to name but a few. These make Amazon India probably one of the most exciting opportunities on this planet for builders – like us – to invent at scale. I feel we have the choice to transform lives in ways we could only dream about in the past.
On Amazon leading business in India

Like every other country, our customers care about gaining access to a massive selection of products at low prices and want them delivered fast and reliably. But, unlike other developed countries, this selection is mostly unorganised, supported by millions of small and medium businesses.
This requires us to think 'customer backwards' and use technology to invent a new approach to bringing selection online and to delivering the same fast and reliable customer experience as we do in other geographies. We have invested in warehouse and last-mile infrastructure that provides national coverage, and have built the most comprehensive and easy-to-use products for anyone to sell anything in a trustworthy manner.
These include our flagship 'Fulfillment by Amazon' product that allows sellers to use our full set of services (storage, pick/pack, same/next/two-day guaranteed delivery, customer service and returns) and 'easy ship' that allows them to use our delivery, customer service, and returns services to supplement their own storage.
Sellers bring products to fulfillment centres in all possible ways, including via rickshaws and on foot. We also pick up deliveries from seller locations. We are making it easy for entrepreneurs to provide a whole suite of ecosystem services including catalogue creation, labelling, training and customer pickups, to scale our efforts and make money using Amazon.
Recently, we enabled global selling to allow local manufacturers to sell to hundreds of millions of Amazon customers. Many local brands tasted success during Prime Day, kicking off their journey to become global brands.
On making local global

We are reinventing the neighbourhood store. Some of our new partners were also local Kirana Stores or the 'mom-and-pop' stores that sell everyday essentials. It became clear that we had a unique opportunity to use technology to enable them to power 90-minute delivery for everyday essentials to our customers. In short, we took on the challenge to connect the least organised operations to the most demanding customers who want products delivered instantly, and to do this at scale.
This is now a regular service offered in select cities under the name 'Amazon Now'. Initial feedback, from customers and stores is exciting; we might just reinvent the age-old neighbourhood store ecosystem into a digital one. We saw many neighbourhood stores, bakeries and flower shops sign up, with partners in more than 50 cities. We have helped them re-invent their business models.
While we feel fortunate to have these gifts, our ability to create a lasting, meaningful impact will depend on choices we make every day – to earn customer trust, to invent and to be relentless despite constraints and challenges.
Raj has been Amazon India's country HR leader since April 2011. His previous roles include stints at General Electric, HSBC and Ford Motor India.